Genesis 101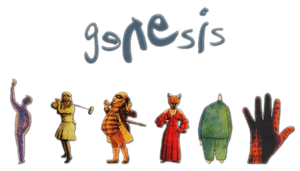 Genesis is an unusual group who transitioned from late-60s British esoteric progressive rock to a dominant pop supergroup of the 1980s. And yet, they sustained progressive sensibilities throughout their five decades together. As individuals, each member also managed to find success. Peter Gabriel's departure in 1975 after The Lamb Lies Down on Broadway led to Phil Collins replacing him on vocals. Steve Hackett would leave two years later. Mike Rutherford, Tony Banks, and Phil Collins would move forward, incorporating Chester Thompson on drums and Daryl Stuermer on guitar for subsequent tours. With such a strange collection of songs ranging from esoteric to pop, they created live shows which needed to appease a variety of musical tastes. They would also become pioneers in live show production. This led to long medleys of varied songs, creating new Frankenstein songs. This page is dedicated to the Frankenstein songs we love and imitate in our own shows.
Firth Of Fifth/I Know What I Like (In Your Wardrobe)
"Firth of Fifth" and "I Know What I Like (In Your Wardrobe)" are from Genesis' Selling England by the Pound (1973). This song has been in standard rotation for their subsequent tours well into The Last Domino? (2021). Firth would become a guitar feature, only incorporating the guitar solo on most tours. It would be followed by Wardrobe, even though Wardrobe is before Firth on the studio album. Wardrobe also included a tambourine solo by Collins which incorporated what he described as his own take on the Morris Dance. An extended medley of Easter egg melodies were added in the instrumental section. This medley became the guitar feature for Daryl Stuermer with a song in the middle, and a synth solo at the end (including that Morris Dance along the way). The snippets included in this medley are nods to "Blood on the Rooftops" from Wind and Wuthering (1976) and "Stagnation" from Trespass (1970).
In The Cage Medley/Afterglow
"In the Cage" from The Lamb Lies Down on Broadway (1974) would become a standard starting song for extended varied medleys on every tour, always ending with the ballad "Afterglow" from Wind and Wuthering (1976). As a band, we scoured through these live medleys and argued extensively over which one would be best to recreate. We decided on this version from their Mama tour. The sequence of songs are "In The Cage", "Cinema Show", "In That Quiet Earth", "The Colony of Slippermen", and "Afterglow".
Duke's Intro/Turn It On Again
Description cooming soon.
Home By The Sea/Second Home By The Sea